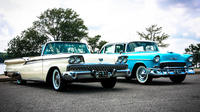 Private Memphis 101 City Tour in Vintage Car
Classic Car Tours
Price $98.33
The city of Memphis has a story with disaster and triumph. 'Memphis 101 is a one hour tour and a great way to learn about how Memphis evolved since the early 1800's. 'From it's thriving cotton industry to an epidemic that almost wiped it off the map. 'You'll see churches that have been standing for centuries, historic homes where high society once dwelled, the city's oldest theater, the park where a music genre was born and the hotel balcony where Dr. Martin Luther King, Jr. was assassinated in 1968 and much more. 'Yes, Memphis is known for its musical roots. 'But its the city's fascinating past that inspired that unique Memphis sound.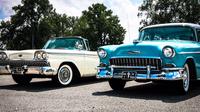 Private Tour of Elvis Presleys Memphis
Classic Car Tours
Price $98.33
Explore Memphis from Elvis' eyes on this private themed city tour in a 1955 Chevy Bel Air, 1955 Belvedere or 1959 Ford Skyliner. 'Cruise along the Memphis streets and see the landmarks and local spots Elvis frequented before he was dubbed the King of Rock and Roll. This tour is perfect for'the Elvis enthusiast and anyone wanting'to know and see more'than Graceland!